MLTA ACT Events
Current and Future Events
Dates for events in 2019 are listed below.
Events are listed in date order with the next scheduled event at the top.
For past events, see Recent Events for events of last year and earlier this year and Previous Events for events prior to last year.
Date and venue
Event
July 2019
Thursday & Friday 15-16 August 2019

Telopea Park School
New South Wales Crescent, Barton ACT 2600

ANGLS Conference 2019
Conference of the Australian Network of Government Language Schools
For more details, see the Canberra Academy of Languages events page.
Saturday 17 August 2019
8:30 am arrival and registration for a 9:00 am start and 2:00 pm finish
Hedley Beare Centre for Teaching and Learning (HBCTL)
51 Fremantle Drive, Stirling ACT 2611
MLTA ACT Conference
Thanks to the ACT Education Directorate's Aboriginal and Torres Strait Islander Section for their generous support of this Mini Conference.
Intext Book Co. & Language International Bookshop will have a display at the Mini Conference.
Please see the conference flier for more details.
Registration via Trybooking. Registrations close COB Tuesday 13 August.
Saturday 24 August 2019
10 am to 4 pm
Narrabundah College Languages Centre (at the back of Narrabundah College)
ACT German Mini-Conference
10.00 Uhr: Offizielle Eröffnung der Konferenz von der Deutsche Botschaft
10.10 Uhr: High-Impact Teaching Strategies for German, Ellen Moffatt
12.15 Uhr: Mittagspause mit leckerem Buffet!
13.00 Uhr: Marina Shine, Goethe Institut
14.30 Uhr: Networking: Show and Tell – Ideen und Materialien für den Unterricht
This event is supported by the Goethe Institut and the ACT German Network.
This event can be counted as teacher identified hours for TQI.
Register via the online form.
September 2019
Thursday-Friday 5-7 September 2019
SCHL, Australian National University
Innovative Language Education Symposium

Language education in the Asian Century'
In country studies
Community language education
Innovative language pedagogy in Asia

Thursday, 12 September
4:30pm to 6:30pm
Macquarie Primary School, 46 Bennelong Cres, Macquarie
Gathering evidence for reporting on the AC:Languages Achievement Standards
MLTA workshop with Veronique Canellas
Please register via TryBooking
Friday 27 September 2019
Nominations for the 2019 Fiona Arthur Language Teaching Award due
October 2019
COB Friday 27 September 2019
Via Google form
Closing date for applications: 2019 Fiona Arthur Language Teaching Award
Saturday 5 October 2019
Canberra
Community Languages Australia National Conference

Community Languages Australia is also known as the Australian Federation of Ethnic Schools Associations.

Saturday 19 October 2019
Please note change from date originally advertised
Hedley Beare Centre for Teaching and Learning (HBCTL)
51 Fremantle Drive, Stirling
Dr Gianfranco Conti return workshop
Recent events
Events are listed in date order with most recent events at the bottom.
These are past events in the current calendar year.
Date and venue
Event
January 2019
Tuesday 1 January 2019
International Year of Indigenous Languages
The United Nations has declared 2019 as the International Year of Indigenous Languages (IYIL) to raise awareness of Indigenous Languages, benefit the people who speak these languagesand promote appreciation of they make to the world's cultural diversity.
January 2019
Monday 28 January 2019
Paris, France
Official launch of the International Year of Indigenous Languages
Co-organised by UNESCO and other relevant stakeholders, with the theme "Indigenous languages matter for sustainable development, peace building and reconciliation".
February 2019
Monday 4 February 2019
First day of Term 1 for new students in 2019
Thursday 7 February 2019, 6 pm
Alliance Française de Canberra
66 McCaughey Street, Turner
Registration evening for new students with Canberra Academy of Languages
Saturday-Sunday 9-10 February 2019, 9:30 am to 4:30 pm
National Library of Australia
Language Keepers: Preserving the Indigenous Languages of the Pacific
Over two days, experts from Australia and the Pacific will reveal how European travellers recorded the languages of the Pacific, and how the revitalisation of Indigenous languages is supporting cultural practice and healing.
Friday 15 to Sunday 17 February 2019
Canberra City
National Multicultural Festival

Canberra Academy of Languages, ACT Bilingual Education Alliance, Canberra Region Languages Forum will be some of the organisations represented at the Multilingual Canberra stall (G33) on Sunday 17 February.

Thursday 21 February 2019
20th International Mother Language Day

International Mother Language Day was proclaimed by the General Conference of the UNESCO in November 1999.

Thursday 21 February 2019
3:30 pm for 4 pm to 5 pm
Alliance Française de Canberra
French Network Meeting
See the News page for a summary and link to French network news for Term 1.
Sunday 24 February 2019
Start: 10:30 am, International Flag Display near Questacon carpark
End: Kings Park, 1.7 km, near Police Memorial
Mother Language Walk 2019

Free entry; lots of fun family activities; Smoking Ceremony; Free T-sheet and free sausage sizzle or bring a picnic

Thursday 28 February 2018, 5 pm for 5:30 pm
The Loft
Duxton, O'Connor Shops
MLTA ACT Annual Meet and Greet.

We will be announcing the plans for 2019 and presenting the Fiona Arthur Language Teaching Award for 2018 to Rebecca Battaglini. See the event flier for more information.

RSVP via Google form

March 2019
Tuesday 19 March 2019, 4:30 pm to 6 pm
MLTA ACT Coaching professional learning
If you are interested in attending, please send an email to Annemarie Power, MLTA ACT Executive Secretary, who will advise you of the venue details.
Some refreshments and afternoon tea will be provided – please advise if you have any dietary requirements.
Our presenter, Amanda Mackenzie, is an experienced educator and coach.
Saturday 23 March, 3 pm
Aegean Room, Hellenic Club, Woden
Language learning public forum – The benefits of bilingualism and how to maintain your heritage language"
Bookings essential – Hellenclub.com.au/booknow
This event has been organised in association with the ACT Bilingual Education Alliance as part of the "Speak Greek in March" program.
Thursday 28 March 2019, 4:30pm start
Telopea Park School
New South Wales Crescent, Barton
Annual General Meeting
Learn more about the behind the scenes work and maybe even consider joining the Executive Committee to support our vibrant association!
RSVP via Google form
Nomination form
Proxy form
April 2019
Thursday 4 April, 3:30 pm to 5:30 pm
Hedley Beare Centre For Teaching And Learning
51 Fremantle Dr, Stirling
Education Perfect Languages Cluster Event
Explore how to transform your languages classroom using Education Perfect Languages

Using EP Languages as more than just a vocabulary tool
ACT Senior syllabus alignment guides
Newly released speaking activities, focusing on pronunciation and communication
EP Peer Review functionality
Creating your own content and assessments
Competition manager and teacher certification updates


RSVP by 2nd April to Kelly Hollis
Sunday 7 April, 2 pm to 4 pm
Latin American Cultural Centre
28 Astrolabe Street, Red Hill ACT 2603
Languages Afternoon Tea with the ACT Bilingual Education Alliance

Fund language activities
Explore story-telling in other languages
Share ideas about raising children in more than one language
All welcome


Free event organised by ACTBEA with the support of the Participation (Multicultural) Grants Program 2018-19 and Canberra Multicultural Community Forum Inc.
Booking required to assist catering – visit Eventbrite (preferred) or contact canberrabilingual@gmail.com
Saturday 13 April, 7 pm to 9 pm
Smith's Alternative
Canberra City

Feature presenter, celebrating the International Year of Indigenous Languages, will be Tyronne Bell.
If you would like also to be a presenter, email Jacqui to sign up in advance.
Tuesday 16 April, 5 pm to 6:30 pm
Big Band Room, Peter Karmel Building (Building 121)
William Herbert Place, Acton ACT 2601
Other Words, Other Worlds: Writing across Cultures
Dr Anna Kazumi Stahl, Director, NYU Buenos Aires, Author
May 2019
Wednesday 1 May 2019, 1 pm to 2 pm ACU, Watson
ACU Professional Association and Professional Learning Expo
Saturday 4 May 2019, 11 am to 4 pm
Old Bus Depot Building, Kingston Foreshore
21 Wentworth Avenue, Kingston, ACT
Connect and Participate Expo (CAP Expo) 2019

CAP Expo showcases opportunities to join groups in the Canberra region and build social connections around common interests. Canberra Region Languages Forum, ACT Bilingual Alliance and CAL will participate in a stall at the expo.

Friday 10 May 2019
Arrivals from 5 pm, event 5:30 to 6:30 pm; option of dinner afterwards
Dickson Tradies
Teachmeet
Theme of differentiation: something you have done to provide differentiation in your classroom, including for diverse needs. PowerPoint okay but no internet
Please RSVP by COB Wednesday 8 May using: this Google Form.
Thursday 16 May 2019
15:30 to 17:30
Alliance Française de Canberra
French Network Meeting
See the News page for a summary and link to French network news for Term 2 of 2019.
Friday 31 May 2019
Deadline for articles for Semester 1 edition of Contact MLTA ACT Newsletter to Contact Editor.
July 2019
Thursday 4 July 2019
1:30 to 2:30 pm followed by afternoon tea
Lotus Hall, China in the World Building, ANU
Language Across Time

This event will be hosted by Daniel Midgley from the Talk the Talk radio show and podcast series about the science of language. Daniel and four linguists will guide students through some of the ways in which historical linguistics can be a window onto the human past. Teachers – visit ANU's Language Across Time page to register.

7-9 July 2019

Wrest Point Conference Centre
410 Sandy Bay Rd, Sandy Bay
Hobart, Tasmania

22nd AFMLTA Languages Conference

Keynote speakers:

Professor Andy Kirkpatrick (Warwick University, UK)
Professor Joseph Lo Bianco (The University of Melbourne)
Professor John Hajek (The University of Melbourne)

Horwood Address: Professor Jane Simpson (ANU). The Horwood Address will be an opportunity to recognise and celebrate the International Year of Indigenous Languages.

Monday 22 July 2019
4:15 pm Baldessin Building, ANU
Language Teaching Forum
Peter Friedlander will talk about "Approaches to Teaching Growing Online Language Student Cohorts."
Previous events
MLTA ACT events for previous years are available as pdf documents, listed below, commencing with the most recent year.
Last updated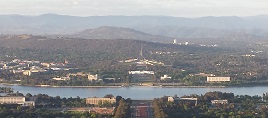 The MLTA ACT Works 4U!